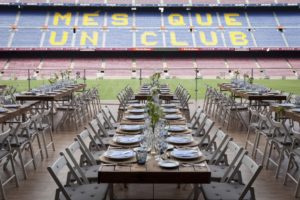 Hardly any marketing tool provides as many ways to effectively connect information with emotion. Events have the power to surprise, inspire, motivate, inform, and persuade.
FACTS 4 EMOTION's Portfolio: Galas, health care events, hospitality, incentives, anniversaries, kick-off events, conferences, trade shows, product launches, roadshows, sales seminars, workshops, and more.
FACTS 4 EMOTION's Services: Conception, participant management, stage shows, technical planning, stage setting, accompanying media (social media, print, intranet), budgeting, directing, show and event supervision, media documentation, travel management, and more.
Key Expertise SPORTS: Sports are a key area of expertise that enjoy growing demand. Sporting events with hospitality aspects – like the Olympic Games, world championships or motorsports events – are ideally suited as a motivating entertainment program for incentive trips. Events that allow an active sports experience and follow a holistic fitness concept are a particularly good fit for modern ideas of health-consciousness. Increasingly, event planning features active employee trainings and seminars on specific sports conducted by well-known professional athletes.